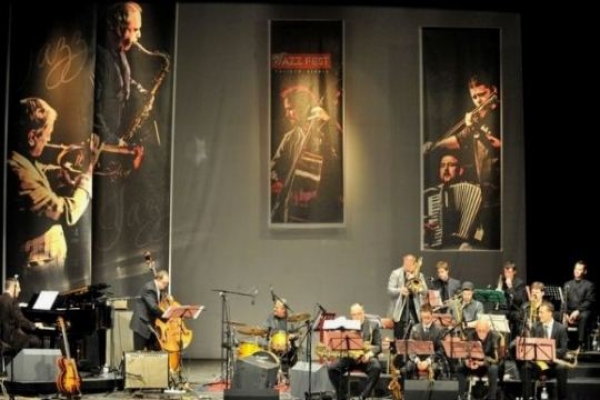 CZ-SK Matus Jakabcic Big Band
NEWS
After a while I started again to write original tunes for a big jazz orchestra. We will cooperate with some singers (Ester Wiesnerová, Peter Lipa), so I wrote  some arragements for them, also we will play some istrumental pieces. Looking forward….
Matúš Jakabčic Big Band
"Matus Jakabcic CZ-SK Big Band"performed for the first time in public in 2004
at the "Czechoslovak Jazz festival"in Prerov, Czech Republic. The organizer of the
festival commissioned Matus to form a Big band which would consist of players from
both Czech and Slovak republic. The successful performance at this festival was
a good start and brought the idea to continue the band on a more regular basis.
Since then the big band performed at festivals and concerts all over Czech and
Slovak republics as well as in Austria. In 2006 the band, together with a special
guest, renowned Austrian saxophonist Harry Sokal, performed at the ORF
Radiokulturhaus in Wien. The concert has been broadcasted to 16 countries all over
the world within the EBU. A live recording of the concert has been released by ORF
on a CD entitled "Matus Jakabcic CZ-SK Big Band featuring Harry Sokal"in
2007. Another live recording from a Concert at the Prague castle - October 2008
which was organized by the Czech president Vaclav Klaus was released on CD in
September 2009. Another live recording from a concert at the Bratislava
Philharmony i- January 2009 was released in December 2009. The band also
performed P. I Tchaikovsky´s music from the ballet Nutcracker arranged by Duke
Ellington. In 2010 is the band performing a new author´s program The Fools of
Chelm, (mainly written by band´s bari sax player Erik Rothenstein) inspired by the
book The Fools of Chelm from I.Bashevic Singer.
"Matúš Jakabčic CZ-SK Big Band"consists of prominent jazzmen from both
Czech and Slovak republic which have rich experience in playing in large jazz
orchestras. Besides playing with the big band the majority of the players are leaders
of their own projects. The repertory consists of compositions by Matus Jakabcic, Erik
Rothenstein, Michal Motyl, as well as their original arrangements of standards.