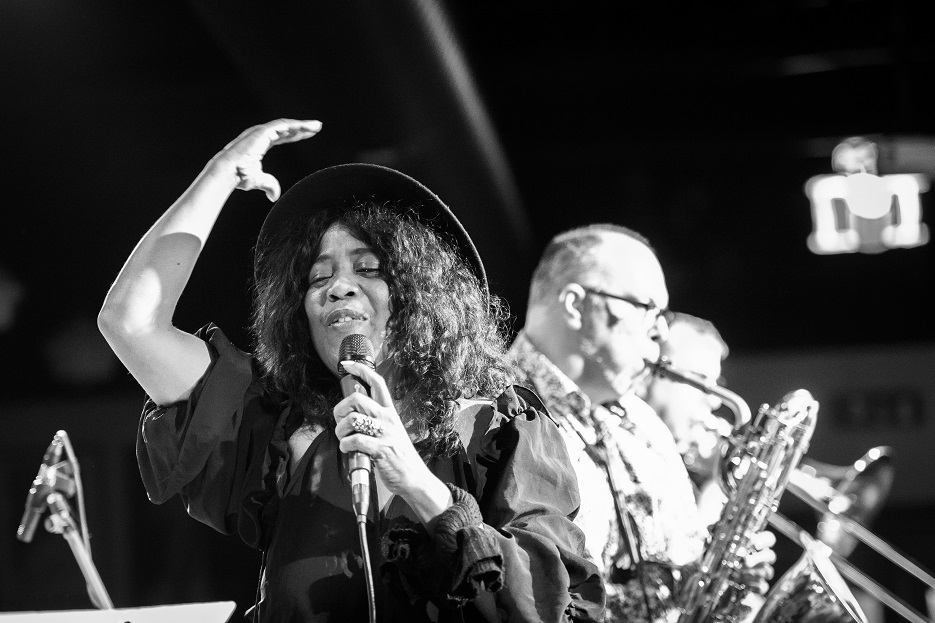 BUYE /LISTEN to ALBUM
https://erikrothenstein.bandcamp.com/album/erik-rothenstein-band-live-with-elsa-valle-g-bor-winand
With my band we were in November 2019 on tour in couple of Slovak cities ( Erik Rothenstein – baritone saxophone, Michal Motýľ – bass trombone, Marián Ševčík – drums, Ľudo Kotlár – piano and Matej Štubniak – double-bass)
As guests I invited singers Gábor Winand (Hungary) and Elsa Valle (Cuba).
With both I already toured in the past. As the cooperation led to mutual satisfaction, we decided to record a live album in Považská Bystrica. The spontaneity and vocal fundament of Elsa and Gabor's invention and scat mastery form an interesting base for communication with the band.
The cooperation of two vocalists with the instrumental band recorded at the concert brought to me personally an authentic and interesting experience.
Energetic songs were played in Latin-jazz style and slow ballads. We recorded instrumental compositions of mine and Michal, as well as compositions of vocalists Elsa and Gabor and several jazz standards.
It is worth mentioning e.g. Gillespie's A Night In Tunisia, with Elsa's Spanish lyrics. Jazz fans can look forward to an interesting mainstream jazz live album with an African-American feeling.
Album
Chapultepec (Erik Rothenstein) – instrumental
Bratislava nahlas (Erik Rothenstein) – dedicated to the Bratislava´s environmentalists at the occasion of 30th anniversary of Velvet revolution – instrumental
Jazzero (comp.&lyrics Gábor Winand) – Gabor Winand voice
A Night In Tunisia (comp.Dizzi Gillespie/ lyrics Elsa Valle) – Elsa Valle voice
Lisboa (Michal Motýľ) – instrumental
Desperda (comp&lyrics Elsa Valle) – Elsa & Gábor voice

You may listen and download the album, as well as the individual recordings, here at the Bandcamp page.
Live recording from Považská Bystrica, Slovakia. November 2019
ERIK ROTHENSTEIN BAND: Erik Rothensrein – bariton saxophon, Michal Motýľ – bass trombone, Marián Ševčík – drums, Ľudo Kotlár – piano, Matej Štubiak – double-bass
Guests: spev – Elsa Valle, Gábor Winand
Recorded by SABIK – Peter Szabados
Photo Pavol Staník
(Bebe Rebe 2020)