jazz saxofonista, aranžér, skladateľ
NEWS
This year we are working on a new repertoire. We will perform songs from our album RIO DANUBIO and some new stuff based on latin jazz grooves and rhytms. Interesting think will be the cooperarion & battle in rhytm section ( drums  with perkussions) and the "heavy weight" sound in the front line ( baritone saxophone and bass trombone)……. STAY TUNED!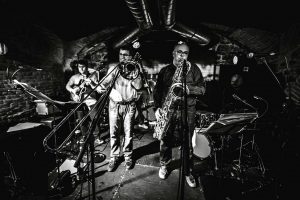 Erik Rothenstein Band
The band is orientated in modern mainstrean jazz in consonance with ethnic influences. On our albums (Prater Menuet – Music centre 2005, The Fools of Chelm – Real Music House 2013)  is jazz combined with Slovak, Balkan  Middle Europeina music and klezmer music traditionally played in this region.  The combination of sofisticated jazz harmony, traditional folklore melody  and solo and collective imrovisation creates an interesting  approach to music.
Album Rio Danubio (Music found 2015)  is characteristic by his Afro-cuban and Brazil flavour. Bossa nova, Samba  or Tumbao grooves and 12/8 rhytms sounds very unique in interesting  Latin-jazz arragements.